THEY ARE OVERWHELMED WITH A COMBINATION OF DIFFICULT, SLIGHTLY UNCOMFORTABLE TERMINOLOGY THAT CARRIES THEIR MIND THROUGH

A BROKEN UP NARRATIVE

.
THEY ARE CONSUMED WITH

CIRCULAR, OVERWHELMING

THOUGHTS, PARTICULARLY REGARDING

DEATH

, DISTORTING THEIR PERSPECTIVE.
THEY CONFRONT THESE THOUGHTS IN A WAY THAT IS

NOT FEARFUL

, BUT RATHER

GRACIOUS

. 
THEY REMEMBER THE WAY TRAUMATIC AND PAINFUL EXPERIENCES CAN FIND A TRANSITION INTO SOMETHING MORE

INSPIRING AND MAYBE EVEN BEAUTIFUL

.
THEY LEARN THAT IN SCIENCE...
BIOLOGISTS TEND TO LOOK AT DEATH 
AS MEANS FOR LIFE TO REGENERATE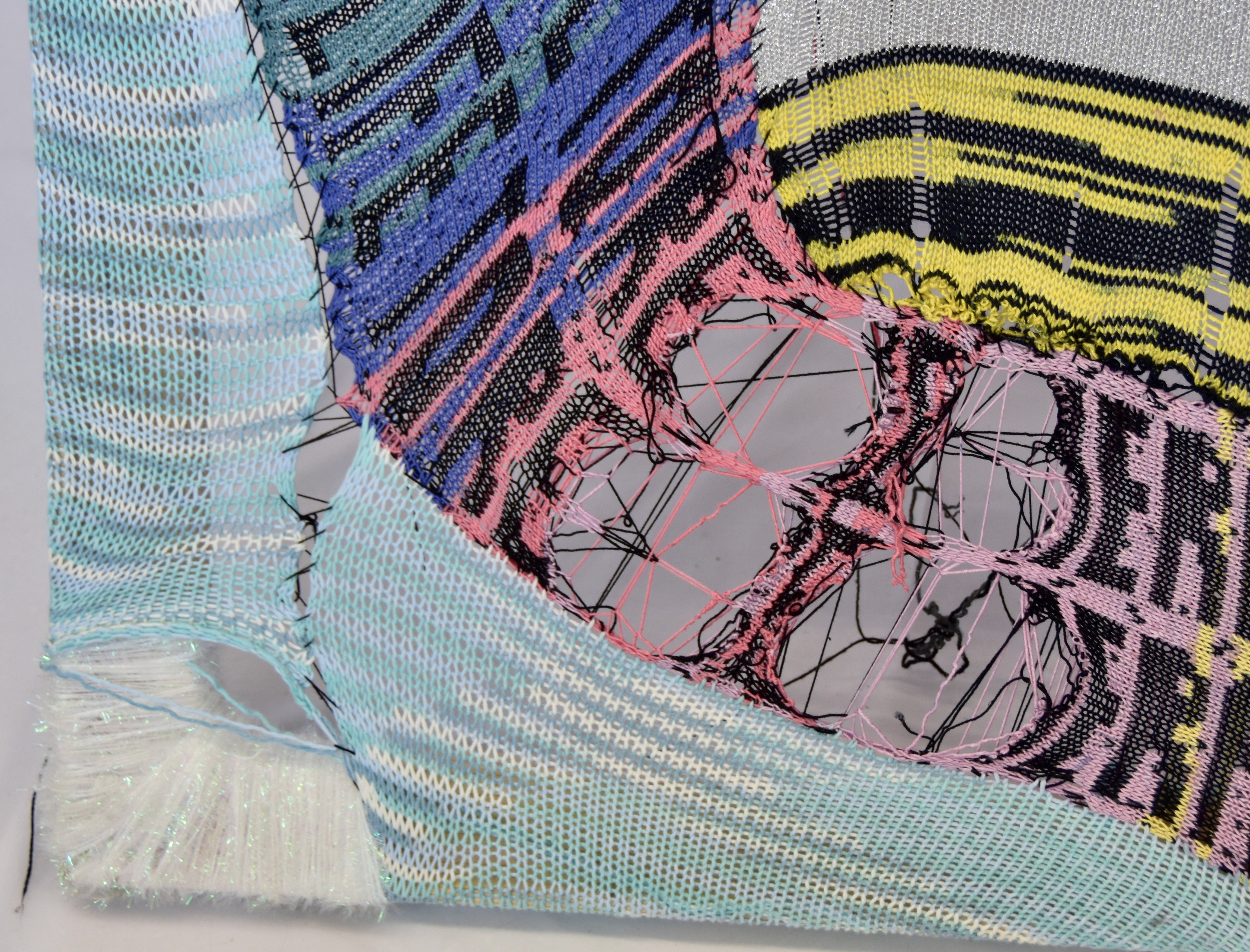 "BIOLOGISTS TEND TO LOOK AT DEATH AS MEANS FOR LIFE TO REGENERATE" 2021
THOROUGHLY TRANSFIGURED BEINGS COLLECTION
MACHINE KNIT MOHAIR & ACRYLIC YARNS STRETCHED ON WOODEN FRAME
"BUT YOU'RE SOMETHING ELSE COMPLETELY" 2022
​​​​​​​
THOROUGHLY TRANSFIGURED BEINGS COLLECTION
MACHINE KNIT MOHAIR & ACRYLIC YARNS STRETCHED ON WOODEN FRAME
"BUT I CAN'T STOP WATCHING" 2022
​​​​​​​
THOROUGHLY TRANSFIGURED BEINGS COLLECTION
MACHINE KNIT MOHAIR & ACRYLIC YARNS STRETCHED ON WOODEN FRAME
"SHE'LL FEEL BETTER IN THE MORNING" 2022
​​​​​​​
THOROUGHLY TRANSFIGURED BEINGS COLLECTION
MACHINE KNIT MOHAIR & ACRYLIC YARNS STRETCHED ON WOODEN FRAME
"LIFE AS MEANS FOR LOVE TO GROW" 2022
​​​​​​​
THOROUGHLY TRANSFIGURED BEINGS COLLECTION
MACHINE KNIT MOHAIR & ACRYLIC YARNS STRETCHED ON WOODEN FRAME
"OF COURSE THEY'RE CONFUSED, YOU'RE STUNNING" 2022
​​​​​​​
THOROUGHLY TRANSFIGURED BEINGS COLLECTION
MACHINE KNIT MOHAIR & ACRYLIC YARNS STRETCHED ON WOODEN FRAME
"BUT SHE'S NOT AN UNFORGIVING GIRL" 2022
THOROUGHLY TRANSFIGURED BEINGS COLLECTION
MACHINE KNIT MOHAIR & ACRYLIC YARNS STRETCHED ON WOODEN FRAME